Five Must Know Tips for Preparing For Storms and Floods
9/8/2020 (Permalink)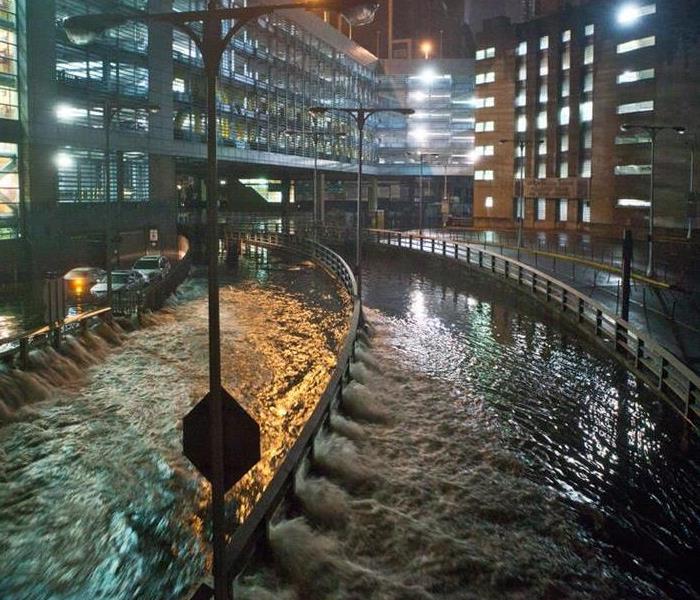 Storms can wreak havoc on your home (and your sanity!) Preparing today can save you peace of mind and money down the line.
From appliances mishaps to natural disasters, water damage has many types and forms that accompany it. Storms and floods are one of the most common types of water damage homeowners and renters can expect here in New York City:
According to New York City Emergency Management, floods account for over $1 billion dollars of damage each year in the United States. It is a threat that every New Yorker is exposed to, regardless of proximity to the waterfront. Flooding can arise from storms, water main breaking, or sewage backups.
Make an Emergency Readiness Plan
It is recommended to make an Emergency Readiness Plan to be ready for any situation. This includes knowing where to meet family after an emergency, there should be at least two locations chosen to meet with others in your household in case of separation. This guarantees that all involved know that they will be able to locate each other with ease, eliminating stress. In addition, pick a neighbor or family member who lives nearby that you can call for support in any case of emergency.
Next, identify any possible exit routes out of the city. Account for bridges and tunnels being overwhelmed by traffic, or for having to seek out another form of transportation to leave the city if you have to evacuate your home during the cleanup and restoration process following a flood.
Check Your Insurance Policy
If you rent your home, renters insurance will insure the items inside your apartment. Homeowner? Make sure that flood and wind damage are included in your homeowner's policy. In many cases, homeowners insurance neglects to include flood damage coverage, so be sure to add it to your policy to be prepared. Keep your insurance information on your phone and printed out or written in an easily accessible space, such as in your wallet, car glove box, or in your bag.
Make a Go Bag
It's exactly what it sounds like. A Go Bag is a curated collection of items that you can grab in a hurry in case of an emergency. Make sure the bag itself is sturdy, such as a backpack, and customize it to your household's direct needs.
Examples Include:
Bottled Water and Nonperishable Food: Granola bars, beef jerky, trail mix are all great quick snacks to include.
Flashlight with batteries included.
List of medications you take with a brief description of why and when you take them.
A contact list of your family and household members, with phone numbers included.
First Aid Kit
Child, pet, and other special care items
Portable cell phone charger
Cash
Toiletries, such as: a toothbrush, razor, deodorant, contact solution/case, etc.
Protect your home as much as possible
If you live in a flood-susceptible area, keep materials, such as sandbags, plywood, plastic sheeting, and lumber, on hand to help protect your home. It will help minimize damage to the structure of your building. Renting? Check with your property manager to see what they are doing to prepare for any major storm or natural disaster. If you would like more information, consult the NYC Department of Environmental Protection for resources that can help protect you.
Lastly, protect your property.
One step you should take that can be done anytime, is to make an itemized list of personal property, including furnishings, clothing, and valuables. Be sure to include more items to this list as you make purchases going forward. This will help you in case any items are damaged and must be replaced via your insurance policy.
As the saying goes,
"An ounce of prevention is worth a pound of cure"
In many cases floods can be either man-made or result from a natural disaster. In either way, it's important for New Yorkers to make preparations to alleviate stress and deal with the problem as efficiently as possible. At SERVPRO of Southern Staten Island, we are able to help you create an Emergency Readiness Plan (or ERP) that is tailored to your exact home or business needs. Give us a call today at 718-979-4100 and ask for Annmarie!